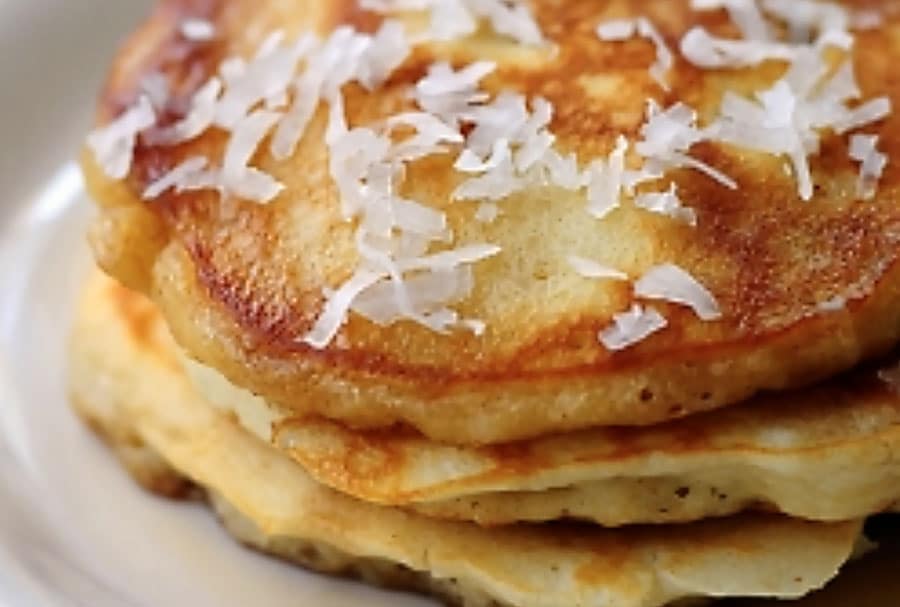 Yield:
About 8 pancakes
Ingredients:
2 free-range eggs
2 tablespoons coconut oil or butter melted
2 tablespoons coconut milk or whole milk
1 teaspoon coconut sugar (optional)
1/8 teaspoon salt
2 tablespoons coconut flour, sifted
1/8 teaspoon aluminium-free baking powder
Extra coconut oil for cooking pancakes.
Method:
1 Blend together eggs, oil, milk, sugar and salt.
2 Combine coconut flour and baking powder and sift
3 Add the sifted coconut flour and baking powder to the batter and mix thoroughly into the batter.
4 Heat approximately 1 tablespoon of coconut oil in a frying pan.
5 Spoon approximately 1 tablespoon of batter into the pan with hot oil, making pancakes about 8 cm in diameter.  Batter will be thick but will flatten out when cooking.  (Note:  the smaller the pancake, the easier it is to turn over.)
6 Serve with topping of choice, for example,
– fresh fruit,
– low-GI jam or marmalade,
– chocolate sauce (made from mixing coconut oil and raw cacao powder together).
– sprinkle with coconut sugar, or cinnamon, or chopped nuts
More Articles and Recipes
Working towards optimum health through better nutrition
My aim is to promote true health and well-being which enables you to lead a more fulfilling and better quality of life on every level – physically, mentally, and spiritually.
Consultations are available in person or by telephone or Skype.