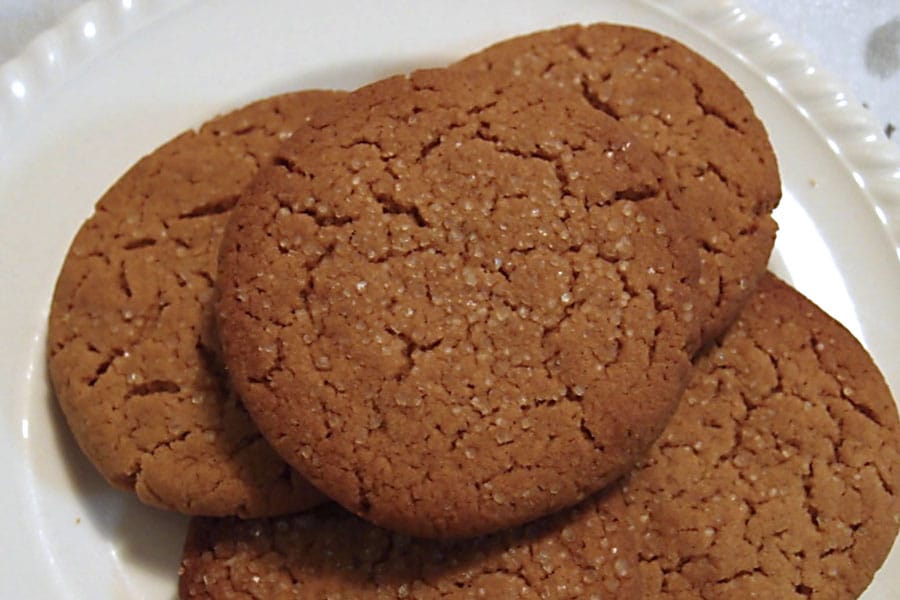 Preparation time:
10-15 minutes
Cooking time:
18-20 minutes
Makes:
Approximately 20-24 biscuits
Ingredients:
1/4 cup coconut flour
1 1/2 cups almond flour/meal
1 3/4 teaspoons bicarbonate of soda
1/2 teaspoon Celtic sea salt
3 teaspoons powdered ginger
3 teaspoons ground cinnamon
1 free-range egg white
1 cup coconut sugar (plus more for rolling biscuits in)
1/4 cup unsalted butter  and extra virgin coconut oil ( I use half and half)
2 tablespoons unsulphured blackstrap molasses
Method:
Melt butter and coconut oil. Note: the idea is to melt the oil, not cook it.
Remove butter/oil mixture from heat and allow to cool.
In a separate bowl, mix together eggs, sugar, melted, cooled butter/oil mixture.
Add molasses and mix, set aside.
In a separate bowl, combine sifted coconut flour, salt, bicarbonate of soda, almond meal/flour and spices, mix well.
Add the dry ingredients to the wet ingredients, mix well.  This dough is extremely stiff.
Place the dough mixture into the refrigerator for 10 mins to allow the coconut flour to absorb some more of the moisture.
Roll approximately 1 tablespoon of dough mixture into a ball and roll in the extra coconut sugar.
Press the dough ball with a flat surface to flatten into a biscuit shape (approximately 2-3 cms)
Continue making balls of dough mixture and rolling in the coconut sugar, setting the dough balls aside on a tray.
Put the tray of dough balls in the refrigerator to ensure that they are quite hard. (This helps the biscuits keep a nice round shape in the cooking process.)
Grease a tray with generously with a mixture coconut oil/butter, or use baking paper.
Remove dough mixture balls from refrigerator and place immediately on the greased tray.
Bake at 180 degrees C for 18-20 minutes.
Allow biscuits to cool slightly and "nudge" each  slice to ease them from the surface of the tray.  They should come away easily if the baking tray has been generously greased.
Continue to allow to cool, then enjoy!
Store in an airtight jar.
More Articles and Recipes
Working towards optimum health through better nutrition
My aim is to promote true health and well-being which enables you to lead a more fulfilling and better quality of life on every level – physically, mentally, and spiritually.
Consultations are available in person or by telephone or Skype.