Rich Choc-Nut Protein Balls Recipe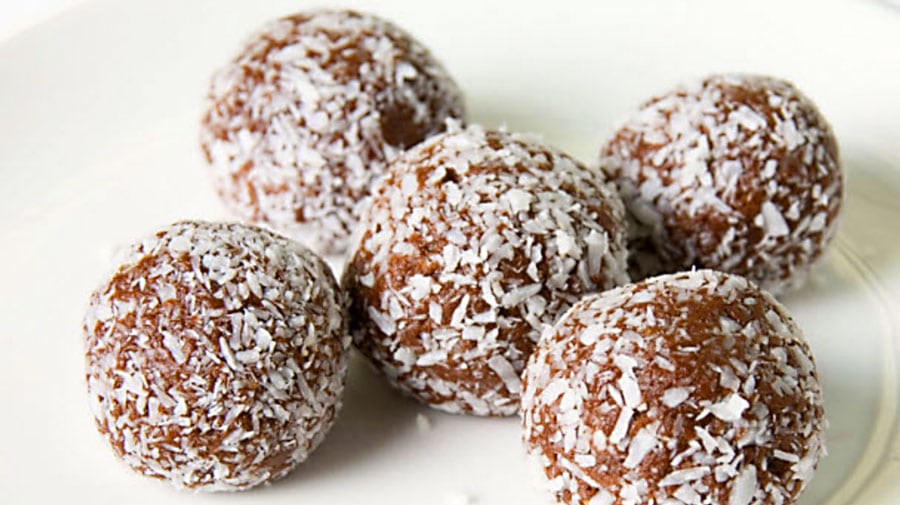 Ingredients:
4 tbspns extra virgin coconut oil
250 g unsalted nut butter (I use 1/2 ABC nut butter and 1/2 hazelnut butter, but use anything you like)
2 cups of crushed unsalted dry-roasted nuts (1 1/2 cups almonds, 1/2 cup cashews/pistachios. I've used a dry-roasted nut mix)
3 tbspns of sunflower and pumpkin seeds
2 tbspn coconut sugar
4 tbspns dessicated coconut
6 tbspns raw protein powder vanilla
6 tbspns raw cacao powder
2 tbspns organic unsulphured blackstrap molasses
50 g dried  sour cherries or inca berries roughly chopped (or goji berries, or …)
Shredded coconut to roll balls in
Method:
Melt coconut oil over a low heat in a double saucepan or put bowl in oven for short time. Note: the idea is to melt the oil, not cook it
Add nut butter, mix
Add dry ingredients and mix
Add blackstrap molasses, mix. The texture should be sticky and clumped together. If it's still crumbly and falls apart, just add more melted coconut oil or nut butter
Roll into balls and coat with shredded coconut
Store in refrigerator
Please note:
* I wanted a crunchy texture so I put the nuts and seeds between sheets of greaseproof paper and crushed the nuts with a rolling pin.
* This is low sugar, low GI. You can adjust sweetness with proportions of coconut sugar and/or molasses.
More Articles and Recipes
Working towards optimum health through better nutrition
My aim is to promote true health and well-being which enables you to lead a more fulfilling and better quality of life on every level – physically, mentally, and spiritually.
Consultations are available in person or by telephone or Skype.